8.10.2021
Packaging for flowers, i.e. safety during transport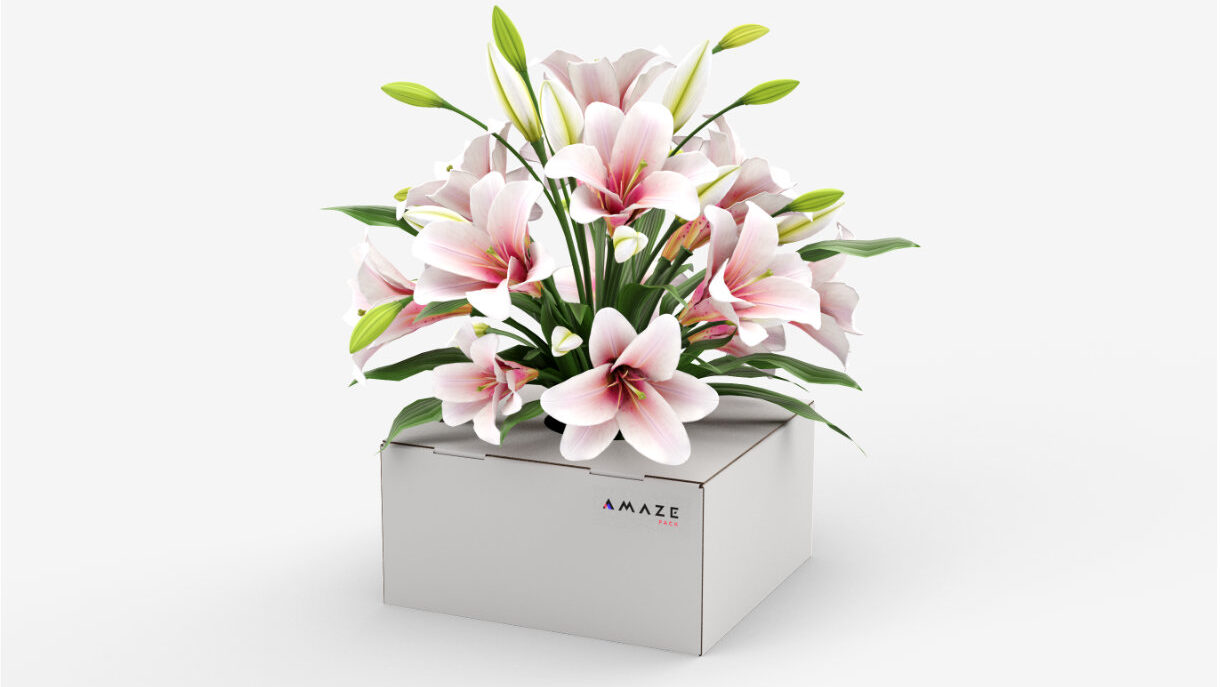 Flowers are a very delicate commodity, which, however, requires frequent transport. They must go from the plantation for purchase, and only then to the target florist. The customers themselves often order flowers with delivery to the address indicated. What is the role of plant protection packaging? What are their characteristics?
The importance of flower packaging
Cardboard packaging for flowers performs a very important function. Plants are very delicate and can be subject to adverse external factors. During transport, they often deteriorate, which is why it is so important to ensure sufficiently stable protection. Cardboard works perfectly as packaging for transporting flowers. It is light, ecological and at the same time very durable. It looks aesthetically pleasing and allows for easy transport of goods to the customer.
Cardboard packaging for flowers is used by many companies. We talk about both stationary florists packing finished products before collection by the customer, as well as enterprises dealing with the delivery of bouquets to the address indicated. Securing flowers will also be useful when you need to transport ready-made decorations, e.g. to the wedding hall. They are also used by plant producers who have to transport them to stock exchanges.
The biggest advantages of packaging for transporting flowers
Packaging for flowers is of course their excellent protection, but this is not their only advantage. Such products turn out to be very beneficial i. a. due to their small weight. The most important advantages of cardboard packaging for flowers are:
ecology – such material is completely biodegradable,
low costs – cardboard packaging is cheap, allows for easy storage and transport,
the ability to add a print promoting a given brand.
Flower packaging ordered in larger quantities can be transported in a complex form, which saves space. It is enough to spread them out only when it is necessary to pack a bouquet.
Cardboard packaging for flowers can take different forms, depending on the characteristics of a particular decoration. Often these are ordinary boxes with certain dimensions, but it happens that they need to be designed in a slightly different way. Then companies come to the rescue that gives the opportunity to fully personalize a specific product.
Printed flower packaging
Packaging for flowers is also a perfect solution for people who want to further promote their company's activities. On the cardboard you can successfully place any print. In this way, the transported flowers perpetuate the logo of a given company in the memory of passing people. This is an inexpensive and effective way to advertise.
The print also allows you to improve the visual effects of the product itself. A consumer who receives a ready-made decoration in a beautiful, colourful box usually evaluates the service better. For this reason, so many people decide to apply multi-coloured prints on cardboard boxes, not only those that depict the logo of a given company.
Currently, there are techniques that allow you to effectively apply prints on cardboard packaging on solid board flowers. They are clear, available in any colours. The printing method is tailored to the needs of a given customer based on the presented details of the order.
Packaging for the transport of flowers tailored to the product
Packaging for transporting flowers is usually available in standard sizes. Thanks to this, you can easily adjust one of them to the dimensions of a particular decoration. There is also an option to create packaging for a special order. Then the exact parameters of a given decoration should be presented. On this basis, you can adjust the appropriate dimensions and create a box that will effectively protect even the largest floristic decorations.
In Amaze Pack, all you have to do is present us with the exact parameters of floristic decorations and your own preferences. On this basis, we will be able to prepare a design of cardboard packaging for flowers ideally suited to a specific product. This is important because a box that is too large can cause plants to move during transport, and too small can make flowers crushed and shapeless. The ability to personalize the box makes the decorations safe regardless of the circumstances.
Protecting flowers in an ecological edition
It should also not be forgotten that securing flowers in the form of cardboard boxes is an ideal solution for people who care about an ecological approach to consumption. Once used, the box can then be recycled. If for some reason it cannot be reused, e.g. due to dirt, such material will decompose on its own. Therefore, it does not cause a threat to the environment, which can definitely not be said about plastic boxes. For this reason, cardboard packaging for flowers is so popular among florist owners, plant producers or even consumers.
Back to list